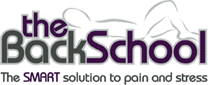 Yoga timetable

Yoga classes are run on a term basis. A term runs for between 8–10 weeks. Enrolment is by the term only but it is necessary to have some private lessons in the Alexander Technique first before joining a class. Only 7 pupils are taken per class to allow for individual attention. Equipment supplied.


Tuesday
9.30 AM - 11.00 AM
2.00PM - 3.30PM
Wednesday 9.30 AM - 11.00 AM
Thursday 9.30 AM - 11.00AM
Yoga Classes are daytime only.

Please contact The Back School on (07) 3256 0155 for more information.